Blue Level
Lesson Five
this / that / these / those
This

A thing or a person is

close

This = singular

That

A thing or a person is

far

That = singular

These

Things or people are

close

These = plural

Those

Things or people are

far

Those = plural
Close = x…y
This
pencil in my hand is yellow.
These
pencils are not very sharp.
Far = x…………………………y
That car across the street is red.
Those cars in the parking lot are blue.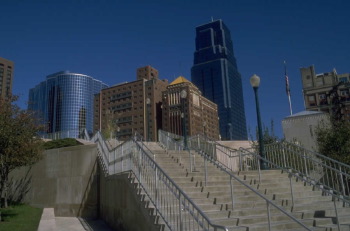 Take these stairs to get to those buildings.
That blue building in the
middle of this picture is very tall.
The video below might help:
"That" is often contracted with the singular form of the verb "be"
That is a window. = That's a window.
That is my friend, Tom. = That's my friend, Tom.
"That's" usually sounds much better than to say, "That is."
"That" can't be contracted in the plural form: That're (no!)
This, these, and those can't take contractions.
Do you want to take a quiz? Click here.
Next: Lesson Six
using "there"