remember
To remember something is to recall information stored in your brain.
Do you remember my name?
I'm sorry, I don't remember. I forgot.
Tom says he can't remember names. He has a really bad memory.
It's hard to remember.
I remember.
I remember it. (The verb "remember" can be transitive or intransitive–followed by an object or not followed by an object.)
What do you remember from your childhood?
When students take tests, they must remember information and facts.
Small children must remember where they live.
Do you remember what you did last weekend?
Did you remember what your teacher told you to do to prepare for class?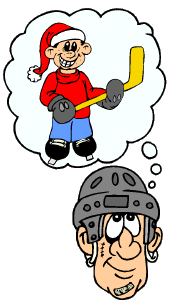 Joe remembers when he was a kid and used to play hockey with his friends.
Jennifer would rather not remember some of the things that happened to her during her childhood.
Remembering things that happened during one's childhood can bring either joy or sadness.
We will always remember what happened on 9-11.
Remember, you can always count on your family in times of need.
Remember, it's necessary to always practice your English every day.
Click here for more English vocabulary.
September 19, 2019