Learn American English Online Blog
August 31, 2018
Starting tomorrow, I'll feature the lessons of the Blue Level here on the blog starting with Lesson One, which introduces the verb "be."
You can download and print out the Blue Level Checklist to help you keep track of your progress.
August 29, 2018
The word of the day is "token." A token has some value and can be used like money, or a token represents some kind of symbolic gesture. It's a fairly common word, so it's good to know what a token is.
August 27, 2018
The school year is beginning this week and next week all over the U.S. Labor Day, which is next Monday, marks the end of summer and the return to school. Are you starting school this week? How about your kids? This is a good time to renew your commitment to learning as we head into the fall.
August 22, 2018
This summer I did some traveling through Europe. Here is the part of the trip that included Germany.
If you received an email from me today, there is an exercise that matches the video. If you aren't receiving email from your teacher, you can sign up here. It's free!
August 21, 2018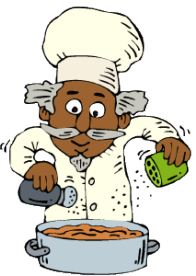 He adding salt and pepper to improve the flavor of the food. The word of the day is "salt."
August 18, 2018
In the summer, many people like to make food on a barbeque grill outside. Popular meat comes in the form of grilled chicken, salmon, hot dogs, hamburgers, and ribs.
There's a new Word of the Day quiz. Click here to take a look at it. I'll send this out in an email to subscribers as well.
August 16, 2018
A person who acts in a way that is false or fake could be described as phony. The word of the day is "phony."
He's so phony!
August 13, 2018
When something is very dirty, a good word to use is "filth."
He's covered with filth. / He's filthy.
August 8, 2018
Foam is that weird substance that forms when water is churned up or when there's a chemical reaction in a particular environment. You should learn how to use the word "foam" if you don't know it.
August 7, 2018
Did you receive your email from me this morning? If not, you can sign up for free emailed lessons, quizzes, and videos by clicking here.
August 5, 2018
The word of the day is "addition."
August 3, 2018
The first three lessons in the Blue Level help students understand how to use the verb "be."
Lesson One

: Using the verb "be" in the present tense.

Lesson Two

: Using the verb "be" in the present tense, negative.

Lesson Three

: Using the verb "be" in the present tense go make questions.
Completing these three lessons is absolutely necessary for beginning level students. A student who doesn't understand how the verb "be" changes according to the verb tense and the subject will always have difficulty with English.
– – – – – – – – – – – – – – – – – – – –
Each course level on this website has a checklist. Print out and keep the checklist next to your computer, tablet, or phone and use it to track your progress as you move through the lessons:
PRINT:
Click here to go back to July 2018
Click here to go to the LAEO Blog Archive.
o o o o o o o o o o o o o o o o o o o o o