The Best Way to Learn English Online
This website can give you a lot of help and advice. It's all free! There are no passwords to remember, and no need to login. Just start learning!
1. Set goals
What do you want to accomplish? How many levels do you want to complete? Can you do one per month? One every two months? Do you want to work on your pronunciation? How about idioms? Know what you want to do. Set goals and stay motivated!
2. Listen
What is one of the best ways to learn English online? Do a lot of listening. If you aren't on this website, listen to your teacher, the radio, TV, video cassettes, audio cassettes–anything you can get your hands on. Just listen to English as much as you can stand it and you will learn a lot. Developing good listening skills is the first step in learning any language.
To listen for instruction in English grammar, click below:
3. Match sounds to words
When you listen to the language, look at the letters and words that match the sounds. This will help you with reading and pronunciation. Understanding English spelling can help you with pronunciation if you learn the letter combinations that produce certain sounds:
cap / cape, cop / cope, cut / cute…
4. Write
Every time you learn something new, write it down in a notebook. This will help you to remember what you have learned. Buy a notebook and use it only for practicing English.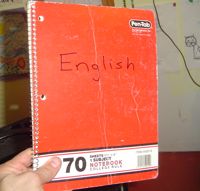 Write the word "English" on the notebook so that you remember what it is for!
5. Read
Try to read English one hour every day. Yes, this is difficult, but English is a very big language, and the only way to learn essential vocabulary is to read it.
6. Speak
Whenever you have the opportunity, speak English. This will be hard to do if you don't live in an English-speaking country; however, the internet provides new opportunities to practice speaking through chat rooms (which is mostly just text for now) and through audio-video chat technology, such as is available through an Apple computer.
You can also record your voice using the recorder below, but don't send it to me. Just use it while you are on this website. Here's what you do:
 * As soon as you finish listening to something, use the voice recorder to say exactly what I have said.
 * Listen to the playback and compare it to my recording.
7. Use the internet
Find one or two or three different free websites that you can go to daily. Don't pay for instruction over the internet. Some websites require monthly or yearly fees and they aren't worth it. This website will always be free.
8. Learn from a teacher
If it's possible you should try to learn from as many different teachers as possible, but at the very least find one teacher and learn what you can from that person.
9. Visit LearnAmericanEnglishOnline on a daily basis
It's not the best site on the internet, but I'm always trying to make it better. Click on the video below for instructions on using this site.
10. Recognize what you have accomplished
You can print out a certificate after you complete all seven levels.