farm
You can use the word "farm" as a noun or as a verb to describe activities in which crops (plants) or livestock (animals) are raised (produced) as a business: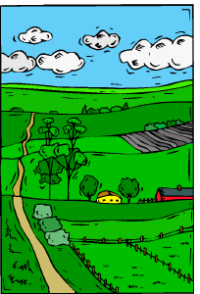 This is a farm.
Bob and Alice live on a farm. They're farmers. (Use the word "farmer" for a person.)
Bob has been farming for over thirty years. (This sentence uses "farm" as a verb.)
Farms are found throughout the United States in rural areas.
Farms in the midwest grow corn, soybeans, and wheat.
Farming is a great way to make a living, but sometimes bad weather causes problems. (This sentence uses "farm" as a gerund–"farming."
If I weren't a teacher, I'd probably be a farmer.
Click here to go to the Word of the Day page.
This page was first published in July 5, 2012. It was updated on April 6, 2015.