brunch
Take the words "breakfast" and "lunch" and put them together to form the word "brunch." When Americans go out for brunch, they eat a combination of breakfast and lunch food. The time for a brunch (10:30 to 11 a.m.) is in the middle of the morning between when you'd normally eat breakfast (8 a.m.) and lunch (12 noon).
Many Americans go out for brunch on Mother's Day.
We're going to a brunch after the church service.
Popular brunch items include quiche, omelets, pancakes, sausage, bacon, pastries, fruit, and sandwiches.
A buffet restaurant is a good place to go for a brunch because it prepares and serves many different types of food.
Brunch is usually closer to lunch than it is to breakfast. It's common to skip breakfast and have a very large brunch.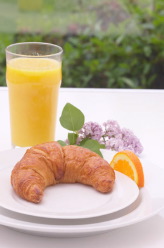 A croissant and orange juice go well together when eating brunch.
Click here to go to the Word of the Day page.
This page was first published on May 13, 2012. It was updated on April 2, 2015.