squirt
When liquid is pushed through a narrow or small opening, it squirts.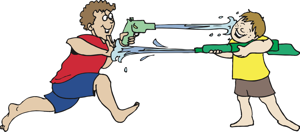 The boys played with squirt guns all day.
They squirted each other with water.
Water squirts through a nozzel.
There are other things that squirt, such as lemons, oranges, and grapefruit.
Many people like to squirt lemon juice on food to add more flavor.
You can squirt lemon juice from a bottle or by squeezing a lemon that has been cut.
Grapefruit juice squirts out from a grapefruit if you cut it in half and eat it with a spoon.
Liquid squirts out of things that are under pressure, and sometimes when it's unexpected.
She accidently squirted her boss with ink.
Ink squirted out of the pen.
Pens that squirt ink are messy and should not be used.
Water squirts from a whale's blowhole.
Click here to learn more words.
January 28, 2014