beige
Beige is a color that is similar to tan. There are many different shades of beige. It can look almost white, almost yellow, or almost light brown. Beige is considered to be a neutral color, so it can go with just about any other color. This is one reason why it's a popular choice for a color in many American homes.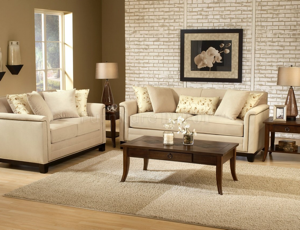 Almost everything in Diane's living room is beige.
The couches are beige.
She has beige pillows on the couches.
The walls are beige.
The rug is beige.
The pictures on the walls all have some beige in them.
People also like to wear clothes that are beige:
These pants are beige.
You can wear beige with just about anything.
Beige looks good with white, black, brown, or blue.
Beige is an easy color to work with.
Click here to go to the Word of the Day page.
August 2, 2015