lake
A lake is a large body of water that is surrounded by land. The water in a lake is almost always fresh. That means you can drink it if it's clean. Lake water is usually not salty. A lake is much smaller than an ocean, and larger than a pond.
It's fun to go to the lake.
Lakes with sandy beaches are very popular.
There are over 14,000 lakes in Minnesota.
A dock is a place from which boats can be launched onto the lake.
These sailboats are on the lake.
People who like to sail take their boats out onto the lake.
There are five Great Lakes in the United States: Lake Superior, Lake Michigan, Lake Ontario, Lake Huron, and Lake Erie.
Lake Superior is the deepest and largest of the five Great Lakes.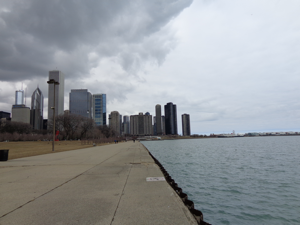 Chicago is on Lake Michigan.
Note: The Great Lakes are shared by the United States and Canada. Boats from all over the world are able to visit the Great Lakes thanks to a lock and dam system.
Click here to go to the Word of the Day page.
Date of publication: September 17, 2016