author
An author is a person who writes something. This word is usually used for people who write professionally, but it can also be used for amateur writers and students.
The author of a famous novel showed up at our local bookstore recently to sign copies of her book.
George Orwell was an author of poetry and fiction.
An author usually works with an editor who helps improve the author's work.
Student authors put together a collection of their writing.
When I was a young man, I wanted to become an author.
Who is your favorite author?
Have you ever met a famous author?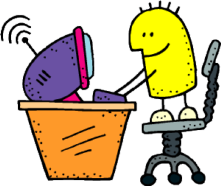 Many authors use a computer to write.
This word can also be used as a verb:
John Updike authored over twenty novels during his career.
Maya Angelou authored poetry and several famous bibliographies.
Click here to learn more vocabulary.
Date of publication: March 1, 2017