night
The time of darkness between sundown and sunrise is generally referred to as night.
It gets dark at night.
Most people work during the day and sleep during the night.
People like to go out at night. They go to nightclubs and restaurants.
Mosquitoes and other bugs come out at night.
What do you do at night?
The use of "night" depends on the place where you live and the time of year.
In Minnesota, the darkness of night comes early in the winter and late in the summer.
It still looks like night when I wake up in the morning in the fall and winter.
In Iceland during the month of June, night never seems to arrive.
The middle of the night is the time of the early morning after midnight to about 3 a.m.
When saying goodbye to someone in the evening, the word "night" is used.
Have a nice night.
Enjoy the night.
Good night.
Nighty-night! (This is a type of expression used when saying "good night.")
Night-night. (This is also a way of saying "good night.")
Do not say "good night" when greeting someone at night. Instead, say "good evening" or just "hello."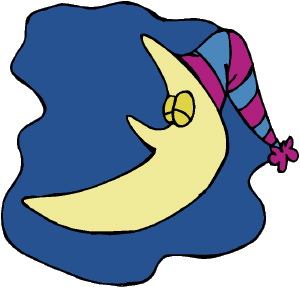 The word "night" is found in many compound nouns:
She couldn't get back to sleep after waking up from a nightmare. (nightmare = a bad dream)
Tanya works the nightshift from 11 p.m. to 7 a.m.
Leonard is a night owl. He likes to go to sleep very late at night.
I have a clock on my nightstand. (nightstand = a small table next to your bed)
People who fish might use night crawlers as bait. (night crawler = an earthworm)
People who need extra training or want to improve their English language skills can attend night school.
Click here for more vocabulary.
August 23, 2019