review
To review something is to give it a close look or look at it a second or third time for the purpose of studying or decision making.
The students reviewed their notes before the test.
Our teacher posted a review online. (This sentence uses "review" as a noun.)
It's important to study and review irregular verbs frequently until they are memorized.
We should have an accountant review our taxes.
Anna and Robert are reviewing their business plans.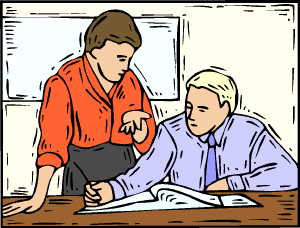 Anna and Robert are reviewing some plans.
When the word "review" is used as a noun, it could be a form of criticism or a complimentary description.
People post their reviews of businesses that they like or don't like on yelp.com.
The movie we're going to see got some good reviews.
Kim received a positive review from her supervisor, and with it came a raise. (raise = an increase in salary)
The review of the play was mostly negative.
A few bad reviews online can ruin a business.
Click here to learn more words.
April 18, 2014